Sign Up Now
THE SECURELUX
Home Keeper
PROGRAM
Sign up to a quote and receive a rebate on your security solution!
Planning your great escape?
Don't leave your home unprotected!
Call us today on
1300 11 51 51
New
Enquire Now
At Securelux
Now Available
$59+ Postage
Chemical-Free
Safe & Effective
Environmentally Friendly
Safe & Effective
Economical & Cost Saving
Long Lasting Durability
Satisfaction Guarantee
Latest Technology
Domestic & Commercial
Chemical-Free
Buy Now
HA-RA Glove!
Get the best out of your screens with the
SECURELUXFREECLOTH
Promo Code
Promo Code
SECURELUXFREECLOTH
Free Cloth Valued at $10
Crimsafe is proudly Australian Made
Need Security Screens for
Find Out More
Your New Home?
Buy Now,
Pay Later
Learn More
Enquire
T&Cs apply. See shophumm.com.au
Make Securing Your Home Less Taxing With Securelux
Onsite Consultation
Phone Call
Video Call
BOOK NOW
Securelux is proud to offer the most
security screen consultation on the market.
3 WAYS TO OBTAIN YOUR QUOTE:
SAFE & SECURE
Crimsafe Security Screens Sunshine Coast
Welcome to Sunshine Coast Security Screens!
We have over 40 years' experience in the security industry. As such, we are the local team to trust when it comes to improving the safety and security of your home or business. We are here to help protect you, your family, your employees, and your assets.
When it comes to protecting your family and your business, you need to invest in quality security measures. The last thing you want is to cut corners when improving safety, leaving your family or your business vulnerable. Fortunately, we have a range of top quality security solutions from which to choose.
Security Screens
We provide a range of Crimsafe security screens for a variety of windows including:
Fixed windows

Hinged windows

Sliding windows

Patio enclosures

Fall protection options
One of the benefits about Crimsafe security screens is that you won't lose the look of your home. These security screens blend right into any home providing a stylish look throughout. The woven steel mesh is more attractive than the older style of bars and grilles, and still allows for plenty of light into the home.
Security Doors
Quality screen doors can be the first defence against theft in your home or business. We can install Crimsafe security doors on:
Hinged doors

Sliding doors

French doors

Bi-fold doors

Stacking doors

Emergency exits
Similar to Crimsafe security windows, these security doors let plenty of light in and will blend seamlessly into the look of your home. They will however provide great security against break-ins and can be custom fit to any size door.
Crimsafe, installed by Securelux, is for any home or business owner looking to secure and protect their home and belongings.
Why Choose Securelux
There are plenty of reasons to choose Securelux to install your security screens and doors.
Sunshine Coast Security Screens is the leading local supplier and installer of Crimsafe products
We are licensed Crimsafe installers on the Sunshine Coast. With Sunshine Coast Security Screens, you will only receive genuine Crimsafe products – no poor imitations.
The Crimsafe range of security screens and security doors boasts the latest developments in security technology. Both residential and commercial properties can benefit enormously from upgrading to genuine Crimsafe products. With Crimsafe, you can have peace of mind that you have invested in the best.
Not quite sure which products you need to improve your security? Leave that in our capable hands.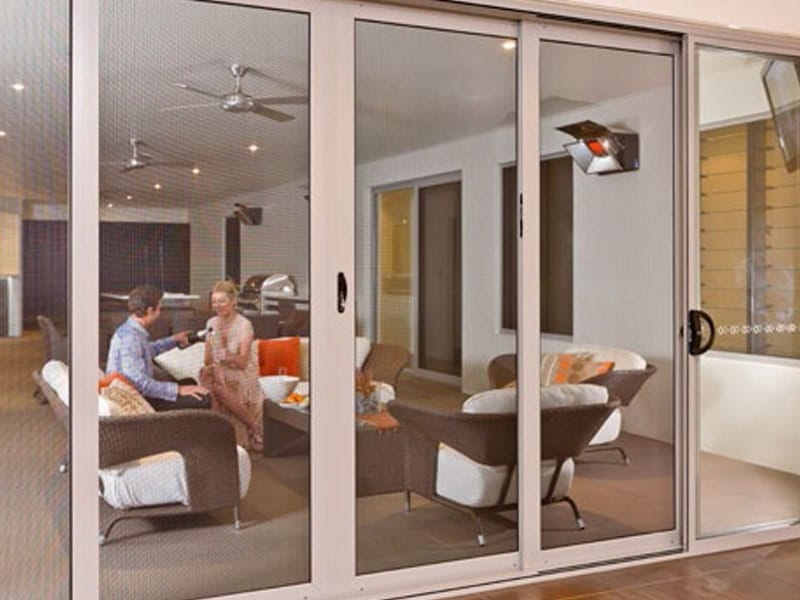 We will work with you to determine the best security solutions that meet your specific requirements.
Our knowledgeable team is adept at assessing homes and businesses to determine what security measures are needed. Thereafter, we will advise you regarding the best security products for your needs.
Furthermore, we are a family business. Importantly, we do not use contractors to fit and install any of our products. Our own team will do every installation, backed by our experienced team in the office. This is another way you can be assured of professional and experienced service from a friendly team.
Forget unsightly bars and grilles. Crimsafe offers stylish solutions that doesn't detract from your property's appearance.
Crimsafe security windows and doors blend seamlessly into the look of your home or business. Similarly, Crimsafe security screens are made from a woven steel mesh that doesn't detract from the appearance of a building. These security measures will allow lots of natural light into the interior, without obstructing any views.
All these Crimsafe products will provide you with much-needed additional security. Additionally, they can be custom fit to a wide range of door and window types.
From Our Blog
You have locks on all your doors to keep your property secure, but what about your windows? One toss of a rock to shatter the glass and a lock on a window can be useless. A better way to secure you windows is with security screens. There are many benefits [...]
You have most likely heard of Crimsafe. They are Australian leaders in security screen solutions, providing security screens for doors and windows. Those seeking the best in security for their home and business choose Crimsafe. Still, many people want to know why they should invest in a Crimsafe door. [...]
There are so many ways in which to add to or boost the security for your home or business that you may not know where to start.  A screen door is a great security measure to have in place, we like to think of it as your first line of [...]
What Our Clients Say
We are very happy with our Crimsafe, easy to look through, easy to clean and makes us feel much more secure and safe from break ins. The man who fitted the doors and windows did a very good job, and Securelux were very helpful putting us onto Certegy Easy Pay which is an interest free loan. Excellent service
Great work guys. the security door and the film look terrific. Custom made door fits perfectly. Every appointment was attended to in time and installation was handled very professionally.

Highly recommend them.
Very pleased with our Crimsafe installation, looks really professional, they were on time throughout the whole process from quote to measure and the install – all the staff very professional and friendly
Professionalism personified. The process right through to the after installation follow up call has been really refreshing from a family company with good old family values and service. Can highly recommend their services and their products to anyone considering purchasing from this company. Thanks to each and every one from Securelux that had a hand in delivering this product to us in such a non-hassle friendly manner.
Get Free Quote
Call us on 1300 11 51 51 or fill out the form below to get call back with quote.
Disclaimer: All information is kept secure and will not be shared or sold to any third party.