After a reliable and long-lasting screen for your windows? At Sunshine Coast Security Screens, we supply and install the optimal Bunnings window security screens alternative. Skip ugly, ineffective screens and invest in Crimsafe's triple lock, near-invisible mesh screens for your windows and doors. 
Our team manufactures our screens as a special order with every one measured and fit to perfection. If you've ever felt that security screens and the aesthetic appeal of your house don't go hand in hand, then Crimsafe is for you. From security screens for windows to adjustable security screens and more, we stock a variety of trusted Crimsafe products suited to your home. 
Why Crimsafe?
While most window screens and security doors come standard-sized, the reality is most homes are far from standard. Older homes especially and those that have been architect designed require custom made screens to get the right fit and ensure proper protection.  
Additionally, security screens are also highly visible and detract from the street appeal of your home. With Crimsafe, all these concerns, among others, can be remedied with ease. 
Crimsafe mesh is virtually invisible when compared with grilles, bars, shutters or traditional security screens. They look much like a regular screen, but with the added strength of tensile steel and Crimsafes patented screw-clamp system – which has been proven to withstand even the most determined criminals from entering your home. 
This style of mesh also allows for a free flow of air and sunlight while also helping to keep out the heat. Of course, being Australia, Crimsafe screens are also very effective at keeping out creepy crawlies!
Quality You Can Trust
Crimsafe products also come with a trusted product warranty and several innovations such as smart lighting power for doors. The reality is, no matter how appealing pre-made security screens from Bunnings may be, it is better to stick with Crimsafe and leave Bunnings for other home DIY essentials such as water sprinklers and irrigation supplies. 
If at any time you experience issues with your screens, we guarantee to attend and remedy the issue promptly and properly. 
What Do Crimsafe Security Screens Cost?
Crimsafe screens do represent a greater investment initially than stock standard insect screens or other security screens. However, there are numerous reasons why they are still the better investment in the longer term.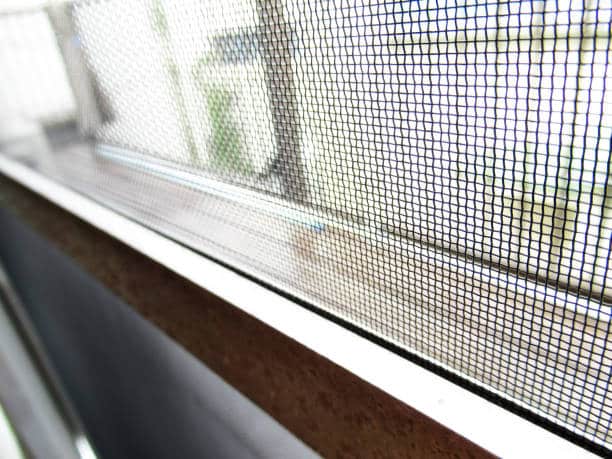 They are made to withstand harsh Australian conditions, their aluminium frames and steel mesh are powder coated. This protector on the aluminium means they won't rust or corrode. 

The screw-clamp technology holds the mesh firmly in place, so no tools or force can push through it.

They look great, meaning you gain the benefit of security without impairing the look of your home – great for sales appeal. 

They are multi-purpose, not only offering safety from burglars, they make upper storey windows safe for children, keep out insects and improve the insulation of your home. 
The price to have these amazing security screens in your home will depend on how many windows and doors there are to cover and their size. Prices will vary also based on whether or not you elect to add any special features such as smart tech to your screens. 
Why Work With Us?
At Sunshine Coast Security Screens, we have decades of experience manufacturing and installing quality Crimsafe products. As one of few licensed Crimsafe installers, we have the knowledge, skill and expertise necessary to deliver exceptional results. 
Alongside our dedication to quality products, we are also committed to outstanding customer service. From your first interaction with us through planning out the products you need, their installation and more, we're the team you can trust to go above and beyond. 
We handle every step of the process, including delivery and clean-up – so you can avoid inconvenient trailer vehicles and skip hire. As safety is a primary concern, we also adhere to all Workplace Health and Safety regulations while working on your property, especially when working at heights. 
If you're ready to invest in the best quality security screens available, contact Sunshine Coast Security Screens today on 1300 11 51 51.