Are you located on the Sunshine Coast and seeking a professional team to custom build and install Crimsafe products? Look no further than Sunshine Coast Security Screens! We are the leading local supplier and installer of Crimsafe products.
CRIMSAFE PRODUCTS
Crimsafe security screen doors and windows are the leaders when it comes to developments in security technology. Their woven stainless-steel mesh and unique screw clamp system make them extremely durable and difficult to penetrate whether using brute strength of tools such as knifes and hammers. Apart from improved security, Crimsafe products are also corrosion resistant for properties impacted by salt spray and act as prevention barriers for open windows and balconies.
Their security products when tested against Australian standards don't just meet them, in most cases they far exceed the minimum requirements. They make a solid foundation or starting point for any home security system.
CRIMSAFE PRODUCT RANGE
Crimsafe has one of the most extensive security product ranges available.
Their range of security screens doors include:
Hinged doors
French doors
Stacked Doors
Sliding doors
Bi-fold doors
Emergency Exits
Their range of security window screens include:
Fixed windows
Patio enclosures
Hinged windows
Fall protection options
Sliding windows
They even have bushfire compliant screens and cyclone debris screens to help better protect homes and business in areas that are more likely to be affected by such extreme weather events.
Yet another advantage of Crimsafe products, apart from their virtually unbeatable levels of security, is their aesthetics. Improved security measures used to mean harsh looking bars or grills that would stand out against a home or business and detract from their overall look. Now we no longer need to sacrifice appearances for peace of mind. Coming in a wide range of colours and tight woven mesh that still allows for great visibility, Crimsafe security screens look sleek and modern, blending seamlessly with any home or business.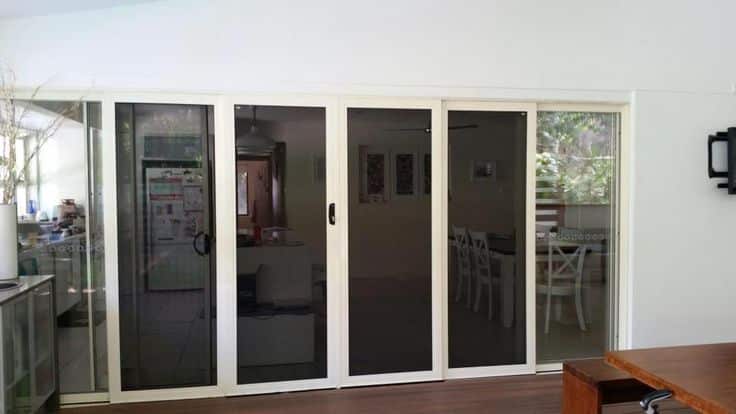 OUR DIFFERNCE
We are a local, family-owned business who has been working in the security industry for over 40 years.
We're proud to be a licenced manufacturer and installer of Crimsafe products. This means that all Crimsafe security screen doors, screens and windows that we install are custom built in our very own factory. When you choose Sunshine Coast Security Screens, we can have peace of mind knowing that you are only getting genuine Crimsafe products, not cheap imitation pieces.
Having your Crimsafe doors and windows custom made to the exact size and shape of your property means a better fit combined with installation by trained professional further enhances security levels and ensures the products work to their fullest potential. Crimsafe installation is best left to the professionals as a home handy job or random contractor will not know the proper installation process and could compromise the integrity or effectiveness of the products.
Our close-knit teams take pride in their work and in providing exceptional customer service. We employ our teams rather than using contract workers as this ensure that our employees are continuously learning and have in depth knowledge of Crimsafe products, are trained in the proper installation process and keep up the high standards of professionalism that we are well known for. There's no room here for cutting corners in workmanship or service.
Not sure what products you might need to help improve your homes security? With more than 4 decades working in the security industry, our capable team is adept at accurately assessing homes and businesses for their security needs and of course take on board your wishes.
Unlike other big business, we truly care about improving our local community's security measures and aren't here to push product sales. We're honest about what you need to improve your security and what products would be an additional but not necessary advantage. We will work with you to recommend which products will work best for your home and security needs.
With a strong focus on customer care, we work with our clients through every step of the process from selecting the right Crimsafe products and a free measure and quote through to final installation.
COST FOR SUNSHINE COAST HOMES?
So, what's the starting price for Crimsafe products for Sunshine Coast homes?
As each client is totally different and each piece of Crimsafe product is individually created from scratch to exact measurements, there is no one same price for every home or business. Our services are affordable, and we've proudly been providing better security solutions to our local Sunshine Coast areas for more than 40 years.
For an obligation free quote on any Crimsafe products, you can get in touch with our team today.