If you have made the smarter choice and invested in Crimsafe security screens and doors, you must carry out some simple steps to ensure they remain as effective as possible. Regular cleaning of your Crimsafe screens and doors not only helps to protect your home but your investment in these high-quality security products. 
At Securelux, the Sunshine Coast's leading supplier and installer of Crimsafe security screens and doors, we want you to enjoy these exceptional products at their best for years to come. 
Don't let your Crimsafe doors and screens become a security risk. Follow our maintenance tips to keep them in top condition.
How To Maintain Your Crimsafe Doors And Window Screens
Far from being time-consuming or complex, our easy-to-follow guide for maintenance will have your doors and windows looking brand new in no time. 
Step 1. Inspect the door regularly for any damage or wear and tear.
While it is highly likely you would notice damage or significant wear and tear quite easily, we do still recommend that every 3-6 months you do a quick visual inspection of all your Crimsafe doors and screens. 
The fade-resistant powder coating should be intact, protecting the stainless steel frame and there should be no gaps between the frame and mesh. Ensuring there is no compromised point of access for a would-be intruder is the best way to keep your property safe. 
Step 2. Make sure the locking mechanisms are working properly and are not damaged.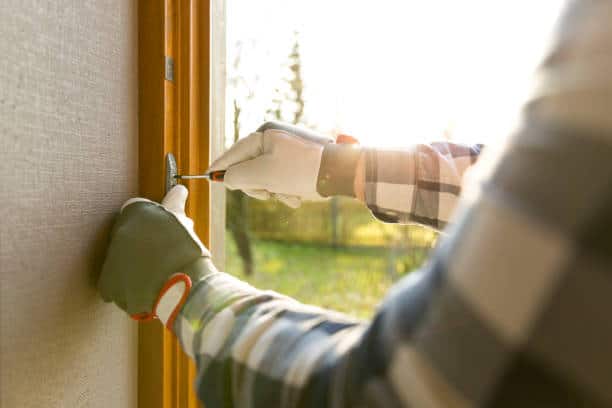 Locks that open and close without force or the need to wiggle or fiddle with them mean properly working mechanisms. Locks that refuse to open or latch properly are obvious concerns both from an intruder's perspective and your ability to exit the premises in an emergency. 
Due to safety, any concerns with locking mechanisms need to be addressed immediately. 
Step 3. Keep the door clean and free of debris, dirt or other materials that could potentially damage it.
Airborne impurities are a fact of life, dust, dirt, salt deposits and other debris can collect and cause damage to your doors and windows. To remedy this, simply clean your Crimsafe products with clean water and a soft cloth or cleaning glove. 
If required a gentle cleaning solution such as dish soap can also be used for more stubborn dirt. There is no need to wash and wax the screens and frames, just water and dish soap, so easy!
Step 4. If you notice any damage, immediately repair or replace any damaged parts.
Should you have any concerns about the functionality of your doors or screens or notice any damage, please contact our team as quickly as possible to organise repairs. Where possible and, if qualifying, many repairs can be handled under Crimsafe's outstanding 10-year warranty. 
By following these simple tips, you can help ensure that your Crimsafe door continues to provide optimal security for your home or business. To learn more or speak with one of our skilled team members, simply call 1300 11 51 51.